Migrating your account to mstdn.ca


Many new Mastonauts start their time on Mastodon at the largest instances and then discover an instance that is better suited for their experience. Some prefer to have a local feed that is better tailored to their interests - such as here at mstdn.ca where we cater specifically to Canadians.
The migration process is admittedly quite fiddly. The developers of Mastodon are hard at work at making this process easier but until then here's what we know.
WARNING: When you migrate to another instance the only thing that carries over are your followers. We recommend taking a backup of your data on the instance that you're leaving as there's some things that you can manually import after you've completed the formal steps.
No matter what, we recommend that you use a computer (not your phone or tablet) to complete the migration.
Taking a backup
Find Import and export in the settings sidebar on the old instance.
Click "Request your archive".
Expect to wait 15-30 minutes for your archive, which will arrive in your email inbox. You can check in on the progress of your archive by refreshing this backup page.
Once the archive is complete, download it.
Download your lists
On the Data export page, you'll notice download links with the text "CSV". Download each one of those.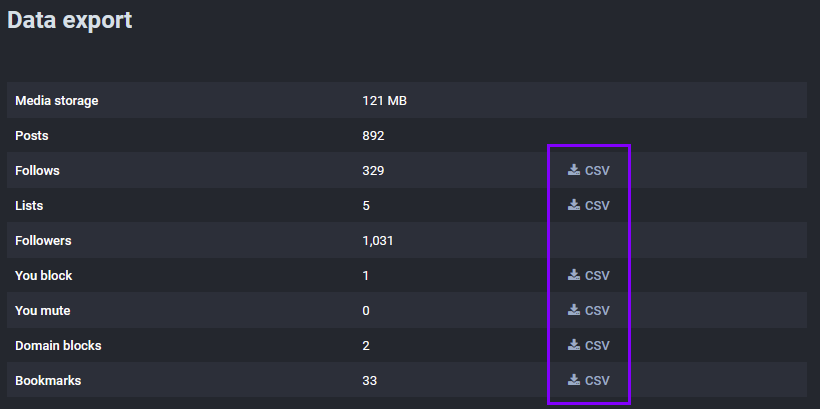 Migrate your profile
Register a new account on mstdn.ca.
Navigate to Account and click the "create an account alias" hyperlink under "Moving from a different account".
Enter your old account's handle and click submit. eg. Cats4Lyfe@mastodon.social
Navigate to your old instance and navigate through Account to the "configure it here" hyperlink under "Move to a different account".
Type the handle for your new account and click submit. eg. DogsROkay@mstdn.ca
That's it! It may take some time for your followers to transfer over.
Import your lists
Navigate to Import and export and select the type of list that you're looking to import. You can choose to merge or overwrite your currently selected list. Browse for your list and then click "upload".
Repeat these steps until you've uploaded all five lists.
If there are any posts (toots?) that you really want to have over on your new instance, search for your old account from mstdn.ca and boost those posts.
That's it! You're done. Welcome to mstdn.ca. We're excited you're here!
---
Migration de votre compte vers mstdn.ca
De nombreux Mastonautes s'inscrivent d'abord sur les plus grosses instances de Mastodon, puis s'aperçoivent qu'il ne s'agit pas du meilleur endroit pour eux. Certains préfèrent avoir accès à un fil local qui représente mieux leurs intérêts, comme mstdn.ca qui s'adresse tout particulièrement à la population canadienne.
C'est vrai que le processus de migration est assez complexe. Les développeurs de Mastodon travaillent fort pour le faciliter. Toutefois, pour l'instant, voici ce qu'il faut faire.
ATTENTION : Lorsque vous migrez votre compte vers une autre instance, vous migrez uniquement vos abonnés. Nous recommandons de faire une sauvegarde des données se trouvant sur l'instance que vous quittez. Ainsi, vous pourrez importer manuellement certaines choses après les premières étapes de migration.
Nous recommandons fortement d'utiliser votre ordinateur (et non votre téléphone ou tablette) pour effectuer votre migration.
Sauvegarde
Cliquez sur « Préférences » dans la barre latérale droite de votre ancienne instance, puis sur « Import et export ».
Cliquez sur « Demandez vos archives ».
Il faudra de 15 à 30 minutes pour recevoir vos archives dans votre boîte de courriel. Vous pouvez vérifier où vous en êtes en rafraîchissant cette page de sauvegarde.
Lorsque vous recevez vos archives, téléchargez-les.
Téléchargement de vos listes
Sur la page « Export de données », vous verrez des liens de téléchargement sous format « CSV ». Téléchargez tous ces liens.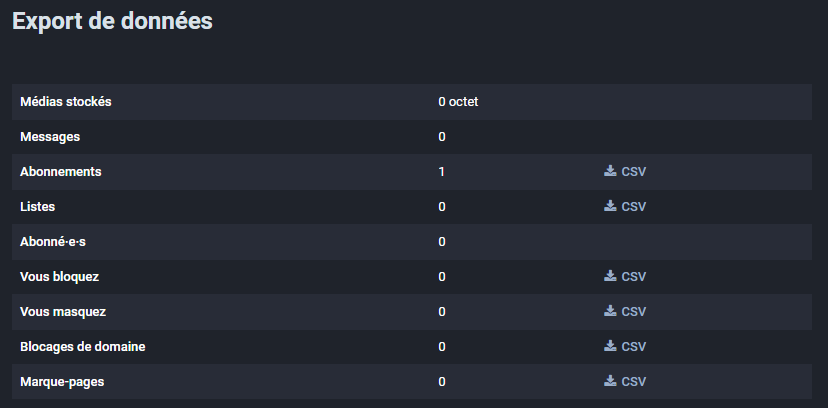 Migration de votre profil
Ouvrez un nouveau compte sur mstdn.ca.
Cliquez sur la page « Compte » ou « Profil », puis cliquez sur « Créer un alias de compte » sous « Déplacement depuis un compte différent ».
Inscrivez le nom de votre ancien compte (p. ex. SiropDuQC@mastodon.social) et cliquez sur « Créer un alias ».
Retournez sur votre ancien compte et cliquez sur « Compte » ou « Profil », puis sur « Configurer ici » sous « Déménager vers un compte différent ».
Inscrivez le nom de votre nouveau compte (p. ex. PoutineDuQC@mstdn.ca) et cliquez sur « Migrer les abonné·e·s ».
Et voilà! Il faudra peut-être un peu de temps avant que vos abonnés soient transférés.
Importation de vos listes
Rendez-vous à la page « Import et export », puis « Import de données » et choisissez le type de liste à importer. Vous pouvez fusionner ou écraser la liste sélectionnée. Trouvez votre liste, puis cliquez sur « Importer ».
Répétez ces étapes pour les cinq listes.
S'il y a des publications (des pouets?) que vous souhaitez avoir sur votre nouvelle instance, cherchez votre ancien compte à partir de mstdn.ca et partagez (boost) ces publications.
C'est tout! Vous avez terminé. Bienvenue sur mstdn.ca! Quel plaisir de vous avoir avec nous!