Who's new in the zoo? Elk, that's who!

Introducing a new way to experience mstdn.ca - we're launching an Elk alpha trial!
Today marks an exciting milestone in our continued mission to improve your experience on mstdn.ca. We're absolutely thrilled to trial a new alternative front-end client, powered by Elk!
What is Elk?
Elk is an innovative and agile open-source Mastodon web client renowned for its modern and ultra-clean user interface. With its nimble operation and intuitive design, Elk is making its mark in the Mastodon sphere, delivering an unmatched browsing experience that stands out from the crowd. Remember that it's still in alpha testing, which means there may be some bugs or unfinished features.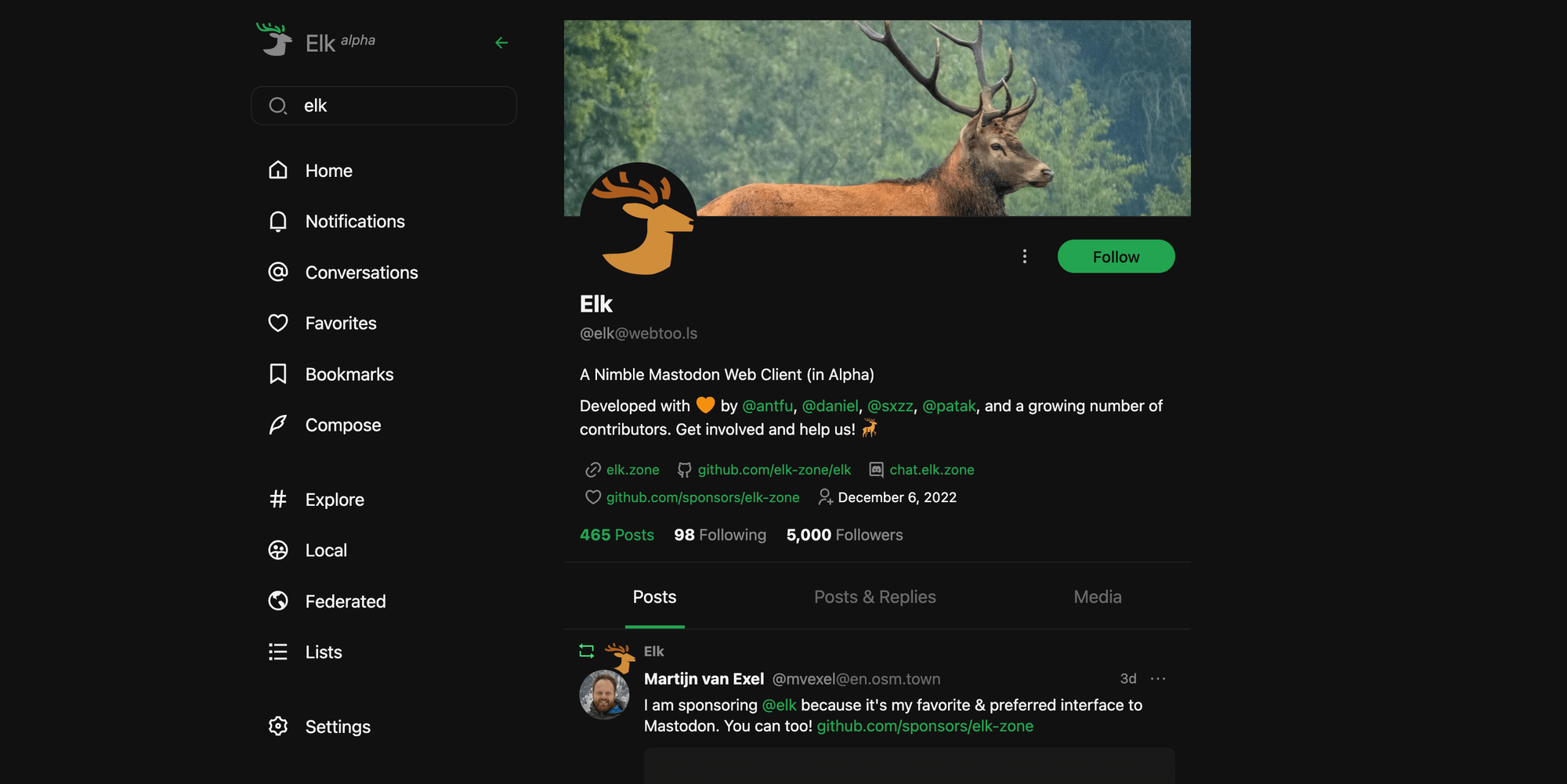 Why Elk?
We chose Elk for its user-centric features and design principles. The Elk client brings a smooth, modern browsing experience to the table, enabling you to seamlessly navigate the Fediverse.
How do you get started?
We've made the transition as easy as pie! To enjoy the Elk experience, simply visit elk.mstdn.ca and log in using your current mstdn.ca credentials. It's that simple! Thanks to the Elk team (@antfu, @daniel, @sxzz, @patak) for their hard work on this project.
🗣️
We want to hear from you!
As much as we're excited about the launch, we're equally eager to hear about your experience with Elk. Your feedback is instrumental in helping us improve and ensure that we're providing the best possible browsing experience on mstdn.ca.
With this in mind, we've set up a special channel on our Discord server where you can share your thoughts, feedback, and experiences with the Elk beta. Whether you loved the new interface, have suggestions for improvements, or found a bug, we want to hear it all! (Please keep in mind that we are not involved with the development of Elk and cannot fix bugs; only try to troubleshoot.)
To join the conversation, simply click here:
https://discord.gg/4MWGT4WQbF

---
On a un nouveau au zoo! Un wapiti, c'est fou!
Découvrez une nouvelle façon d'utiliser mstdn.ca avec le lancement du test alpha d'Elk!
Aujourd'hui, nous poursuivons notre mission visant à améliorer votre expérience sur mstdn.ca avec une mise à jour excitante! C'est avec grand enthousiasme que nous mettons à l'essai un client Web différent, offert par Elk!
Qu'est-ce qu'Elk?
Elk est un client Web novateur et flexible de source libre pour Mastodon. Il est reconnu pour son interface moderne et extrêmement soigné. Avec son utilisation souple et sa conception intuitive, Elk se distingue dans le milieu des applications pour Mastodon. Il offre une expérience de navigation inégalée. N'oubliez cependant pas qu'il s'agit d'un test alpha. Il reste donc peut-être des bogues et des fonctions inachevées.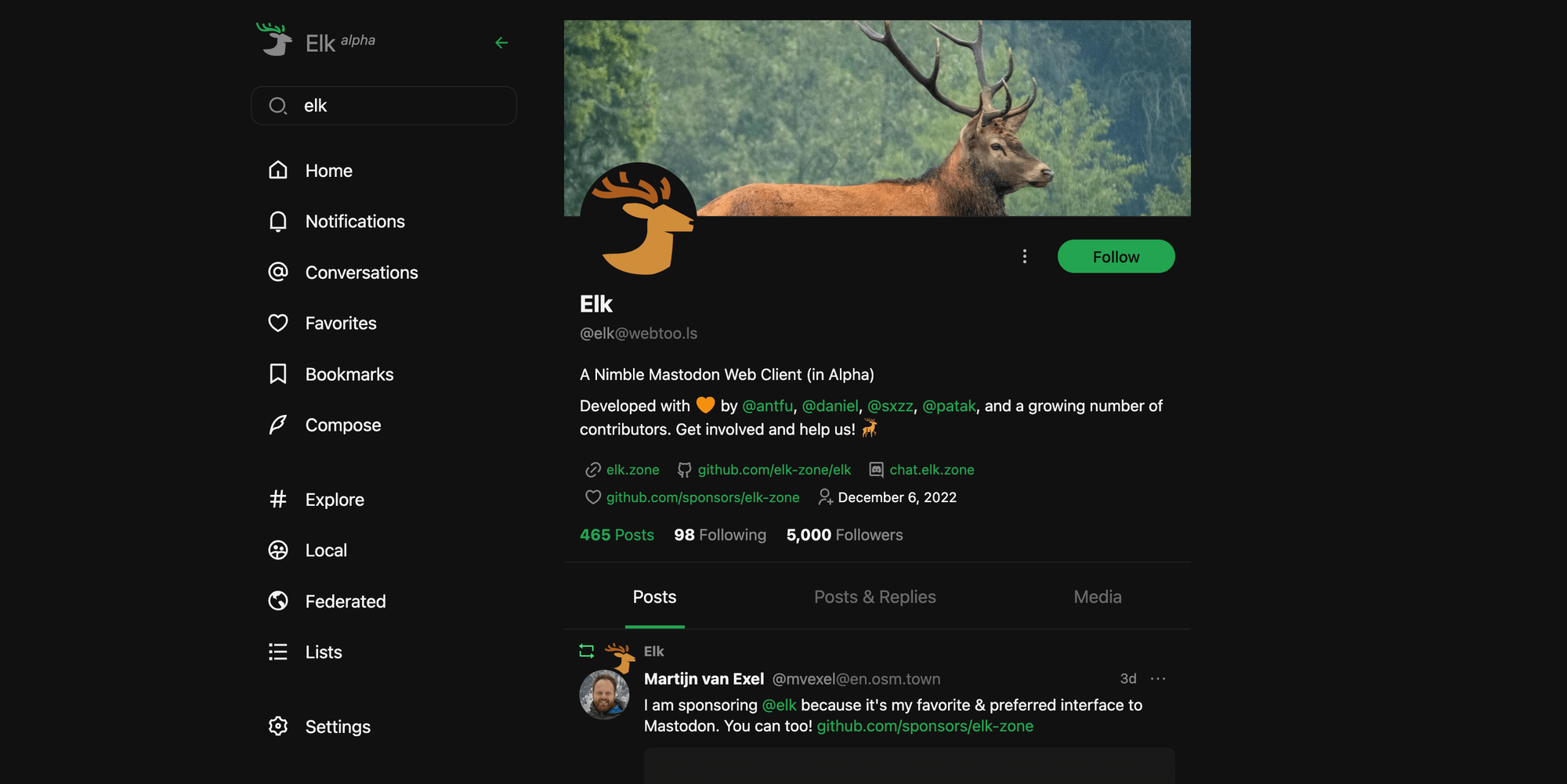 Pourquoi Elk?
Nous avons choisi Elk pour ses fonctions axées sur l'utilisateur et ses principes de conception. Le client Elk offre une expérience de navigation moderne tout en douceur, vous permettant de consulter sans problème le Fediverse.
Quoi faire?
Vous verrez, c'est simple comme bonjour! Pour essayer Elk, vous n'avez qu'à visiter l'adresse elk.mstdn.ca et ouvrir une session avec vos justificatifs de mstdn.ca. C'est aussi simple que ça! Merci à l'équipe d'Elk (@antfu, @daniel, @sxzz et @patak) pour tout ce qu'elle a fait dans le cadre de ce projet.
🗣️
Dites-nous ce que vous en pensez!
Même si nous sommes vraiment excités au sujet de ce lancement, nous avons hâte de savoir comment votre expérience avec Elk se déroulera. Vos commentaires sont essentiels pour nous aider à nous améliorer et nous assurer que nous vous offrons la meilleure expérience de navigation possible sur mstdn.ca. Nous avons donc créé un canal dédié au test alpha d'Elk sur notre serveur Discord. Vous pouvez y partager vos pensées, vos commentaires et vos expériences. Nous voulons tout savoir : vous adorez la nouvelle interface, vous avez des améliorations à suggérer ou vous avez trouvé un bogue. (Gardez toutefois à l'esprit que nous ne participons pas au développement d'Elk et que nous ne pouvons pas résoudre les problèmes nous-mêmes.) Pour participer à la conversation, c'est par ici :
https://discord.gg/4MWGT4WQbF
.